Service
Notification of any change or termination of service is the obligation of the customer as charges will continue in account name until we have been notified.
Drivers work all holidays except Christmas and New Year's Day.
We are not responsible for articles left next to your garbage can.
One can for manual collection is a maximum of 32 gallons (50 lbs.).
Loss or damage of company-owned receptacles is the responsibility of the customer.
Cart Placement: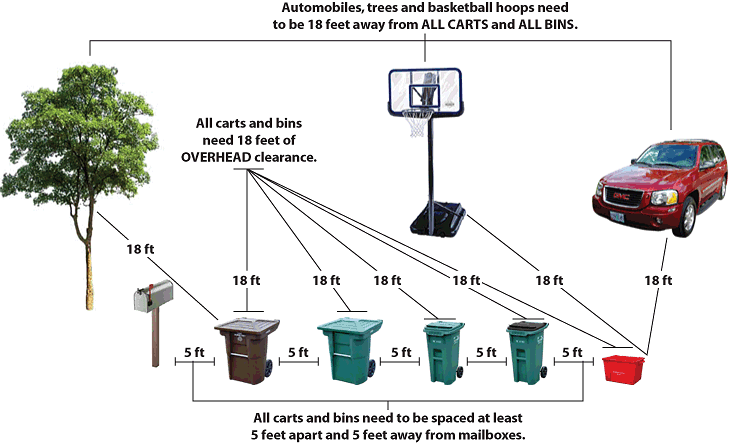 Terrain Charge
The City of Portland has established a $2.45 per month (on a weekly service) "terrain charge" included in the bill. In most of Portland's west side, the topography creates conditions that lead to higher service costs. Factors include: narrow and dead-end roads, hills, non-grid street layouts, and more distance between houses.
Payments
Account payments are due by the 15th of the month. Past due accounts are subject to cancellation. A $25 minimum reinstatement fee will be charged after cancellation for non-payment. A FINANCE CHARGE which is computed at the rate of .75% monthly (ANNUAL PERCENTAGE RATE 9%). A minimum of $1.50 will be assessed on any amount due after applying payments received which remains unpaid for 25 days or more after closing date. NSF/Returned Checks are subject to a $25.00 minimum fee.
All payments made to Walker Garbage can take up to 5 days to process. This includes hand delivered payments. We stop processing all payments at 1:00 pm, Monday through Friday.
To avoid past due payments, you can sign up for autopay with us or you can submit recurring payments through your bank.
If you receive a past due notice and you're unable to submit a payment by the deadline, we ask that you contact us before the deadline. This way, we can note your account so that your service will not be suspended.
If your service has been stopped for non-payment, your payment must be in our office by 1pm the business day before your service day to ensure that service will resume.
Inclement Weather
We will attempt to collect everything on schedule. If we're unable to service your street, please leave your containers curbside and we'll attempt to collect on the following day, weather permitting. Daily updates will be available on our voice mail and website.  Check the "SEE MORE" section on the HOME page for more information.